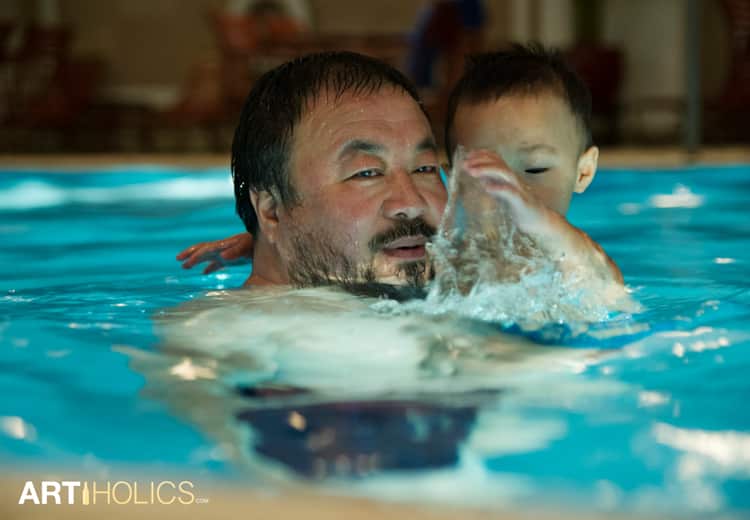 New York – Wednesday, May 14, 2014
Ai Weiwei The Fake Case, is the second in what looks to be a possible series of art documentaries about China's most famous artist, Ai Weiwei. Filmmaker Andreas Johnsen seamlessly picks up exactly where director Alison Klayman left us at the end of her award winning documentary Ai Weiwei: Never Sorry.
After being released from an 81 day government detainment we are launched right back into Weiwei's world as he struggles to balance being a father, an artist, and a strong political voice; all while living and working under constant surveillance of repressive communist regime which has taken away his passport, and wants nothing more than to silence him.
AI WEIWEI THE FAKE CASE  has it's US debut this Friday (May 16 – May 20, 2014) at NYC's IFC Center, where director, Andreas Johnsen will be in attendance for Q&As all opening weekend.  Advanced tickets for the premiere went live last night and ARE AVAILABLE HERE.
If you are like me, you will do yourself a favor and watch the first documentary Ai Weiwei Never Sorry (currently available on Netflix Streaming) before hitting the theater, as it completely sets up the story, and this film doesn't waste time with exposition. It goes ALL IN straight from the jump.
SPOILERS AHEAD: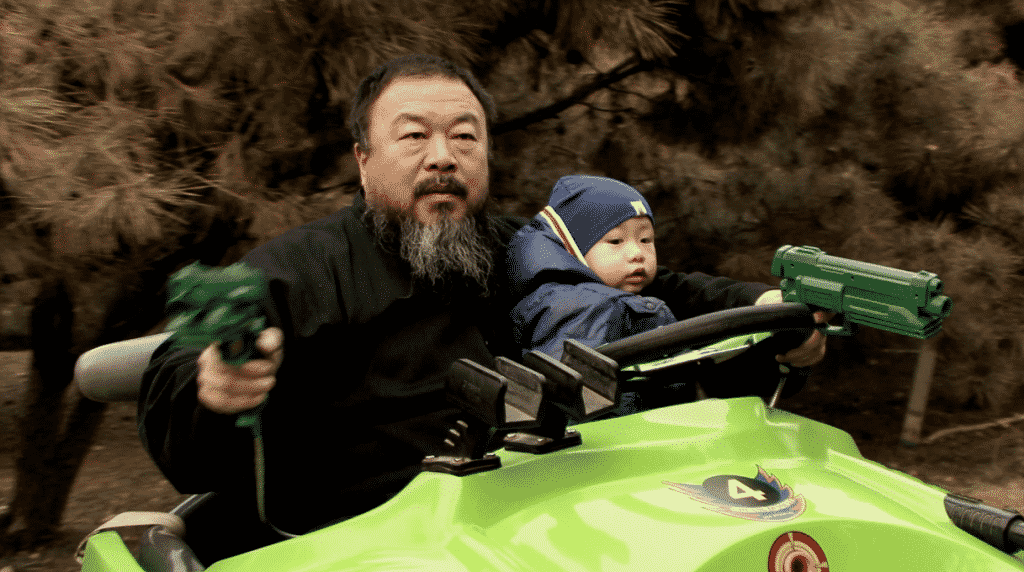 The two films are seamlessly meshed.  So seamlessly in fact that because I watched them both back to back on my iPad in bed last night I am almost a little blurry as to which events happened in which film.
Ai WeiWei: Never Sorry ended with Ai  being released and being out on a $1.5 Million bail for alleged tax evasion, which as said in the trailer above, isn't a real thing in China.
If you recall at the end of the first film we found him released and returning to his compound at night, surrounded by reporters in the dark, lit up by flashes and camera lights.  He had a government gag order that barred him from interviews so he apologetically made his way through the crowd and closed the metal door behind him, and that is where we were left.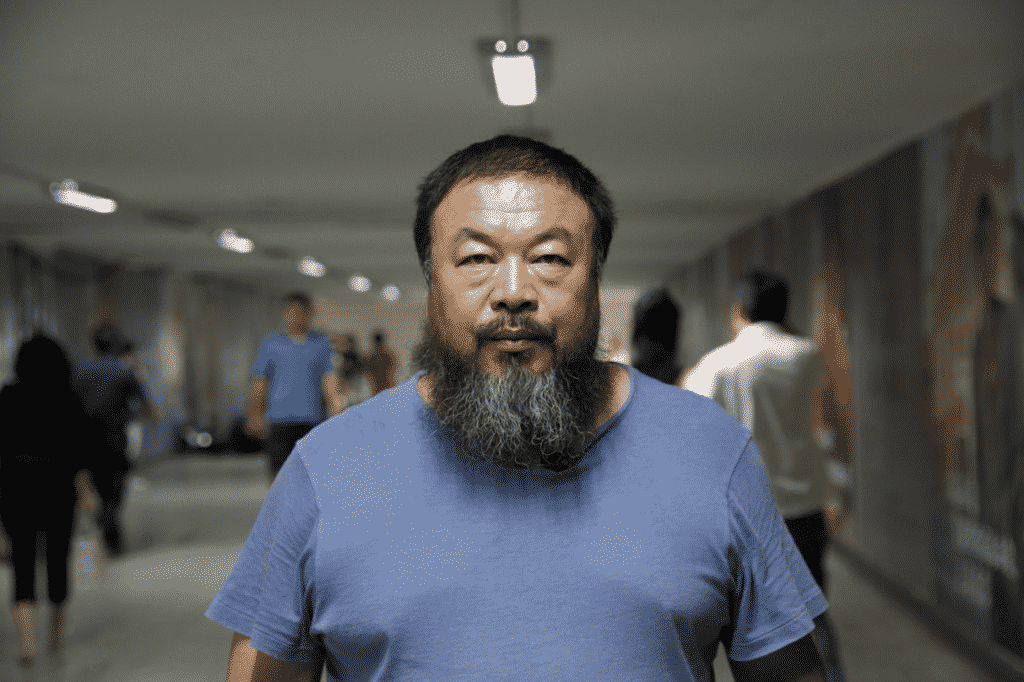 Trying as much as possible to resume as much of his life as he was legally allowed to while suffering from sleeping disorder and memory loss, he began re-bonding with his son after his three month absence.  His world had been rocked, as he realized the truly scary "nightmarish" power of the government, who when the cameras were off made it perfectly clear to him that they didn't have to give him his passport back, they could rearrest him at anytime, and that he was still being watched 24/7.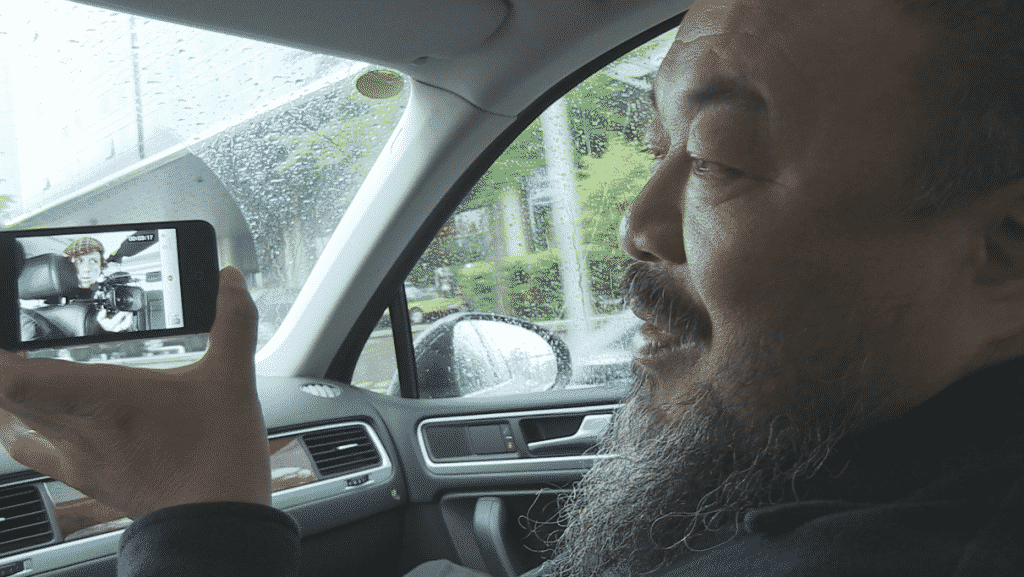 Much in the way former hackers who've infiltrated government websites are forbidden from operating computers, the verdict was still out as to the possibility of  Ai Weiwei resuming his online presence.  For a man in his 50s, you will never find a guy so social media savvy.  He is hooked into twitter (https://twitter.com/aiww), and has used it's power beyond what any other artist has thought possible.
With 245 Thousand followers, and having posted over 106 thousand tweets, he is tuned in.  He also always has a film crew following and documenting him, he documents his experiences with a smart phone and iPad himself, snapping pictures constantly.  I can only imagine how a guy that plugged in must have felt stripped of a huge part of his feeling of who he is when he was placed in a white room with no WiFi.
When someone has that sort of fan base, and the news comes out that the government charged him $1.5 Million to be released, they come to your rescue.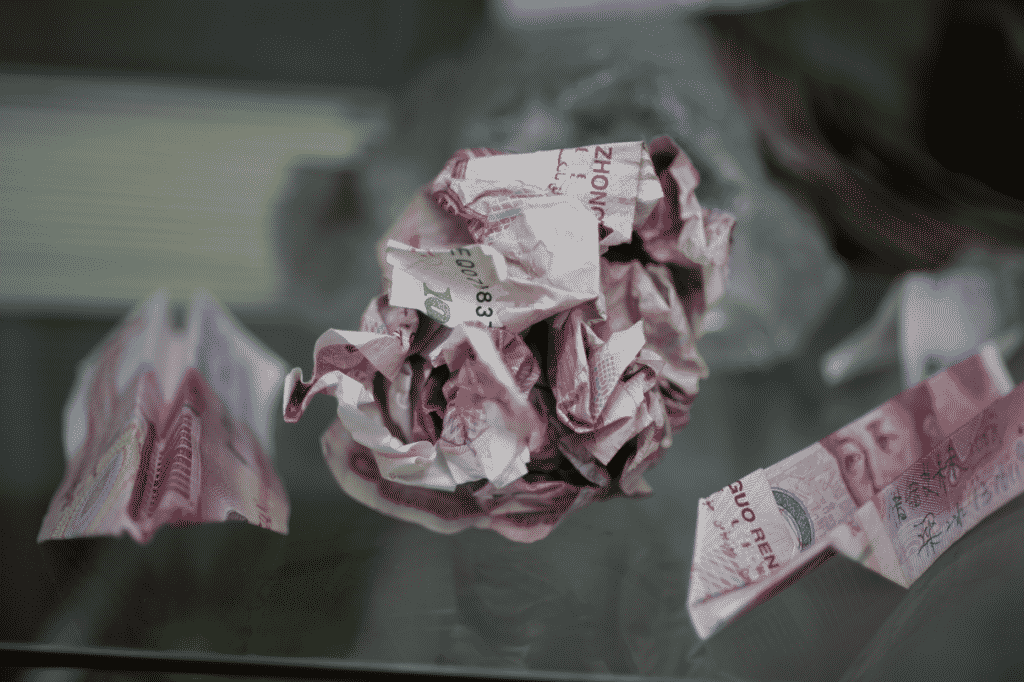 His bail was paid by donations, either mailed to his studio, or tossed over the studio walls.  Crumpled bills and paper airplanes sailed into his garden.  Unfolded and unwrinkled the bills totaled up to cover the amount he had needed to be released.  He was humbled, and overwhelmed by the power the internet wield.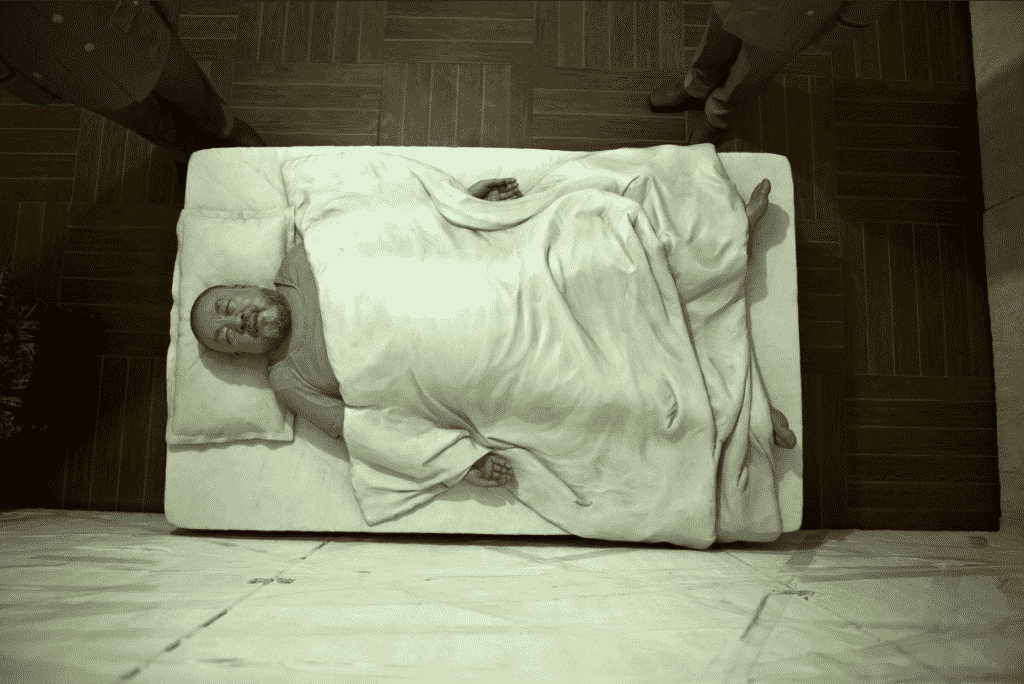 Like countless artists before him, he turned his suffering into beauty with is series of six perfectly scaled down hyper-realistic sculptural dioramas depicting the six parts of his daily life during his 81 day imprisonment  in a taped up box of a room with two fatigued guards watching him day and night while he ate, slept, and shat.  The creation of which is chronicled in the film.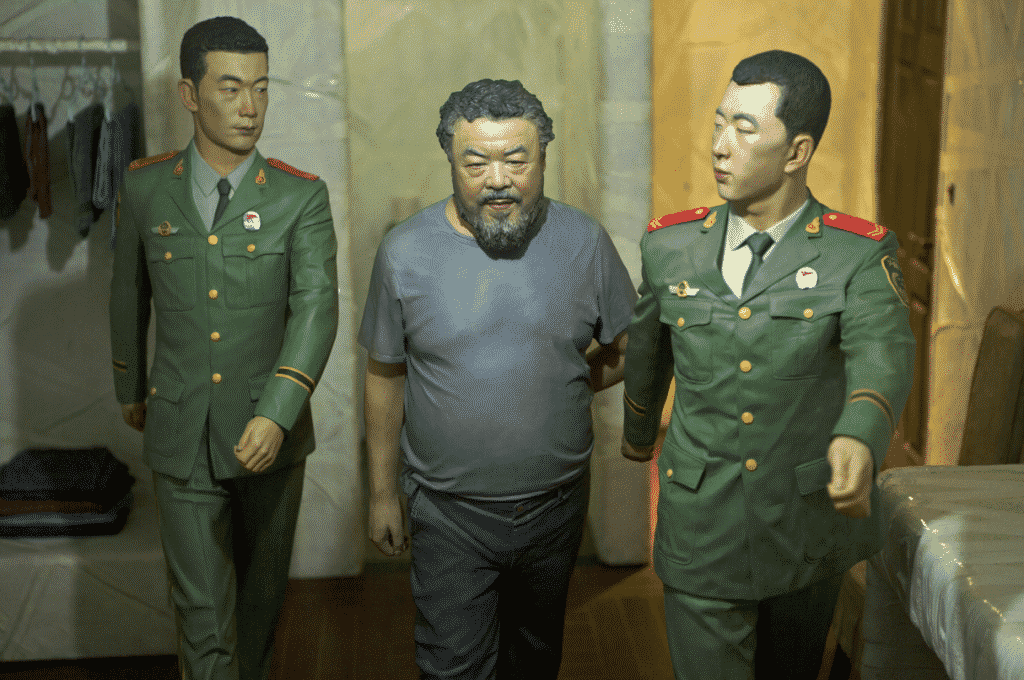 The six pieces, titled S.A.C.R.E.D., premiered during the Venice Biennale and is now on view at the Brooklyn Museum in his current show titled According to What?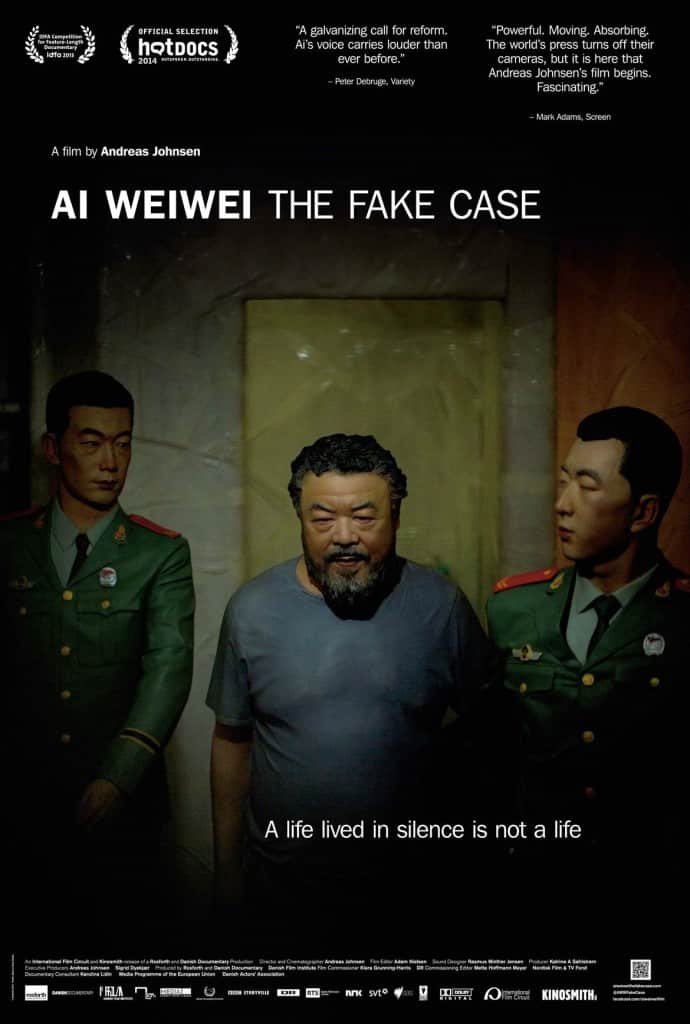 AI WEIWEI THE FAKE CASE screenings in NYC start Friday, May 16th, 2014 at IFC Center and end Tuesday, May 20th. Only 30 screenings will be available, so get your tickets now.

Not in NYC?   AI WEIWEI THE FAKE CASE may be coming to an arthouse theater near you, here is a current list of upcoming playdates in the US.
Written by Cojo "Art Juggernaut"