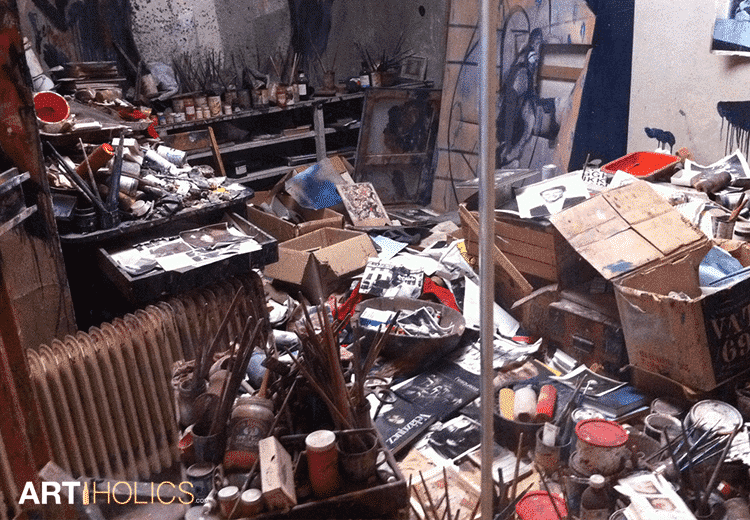 Vancouver, Canada – Monday, June 9, 2014
For most artists, the studio is our haven – an inner sanctum of creativity where we can escape the world outside and get down to the much more serious business of making art. But how have artists kitted out their creative cribs in years gone by and how has this helped inspire them? Let's take a look at 5 of the strangest artists' studios ever.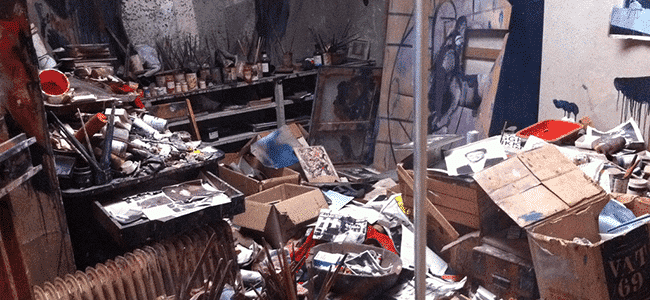 Francis Bacon's studio at the Hugh Lane Gallery, Dublin. Pic courtesy of Patrick van IJzendoorn
1. Francis Bacon: Chaos And Creativity
When she climbed the steep stairs up to painter Francis Bacon's tiny studio at 7, Reece Mews, South Kensington, London in 1997, Hugh Lane Gallery director Barbara Dawson had no idea what to expect.
What she found was a chaotic assemblage including slashed canvases, paint-splattered walls, countless handwritten notes, an article on singer George Michael (!) and 1,500 photographs. And a unique insight into the mind of this Irish-born British figurative painter, famous for his raw imagery and compelling depiction of the human condition.
Francis Bacon's studio (an exact recreation of which can be seen at the Hugh Lane Gallery, Dublin), is in stark contrast to the huge, open-plan spaces you might usually associate with artists' studios.
Indeed, the artist tried working elsewhere, such as larger premises in London and a stint in South Africa, but it was always the cramped, unkempt maelstrom of inspiration in Reece Mews that he came back to.
2) Maison Marie Henry: Gaugin's House Party in France
The rocky, uncompromising and often windswept landscape of Le Pouldu, Brittany, may seem in stark contrast to the sunny coves and palm trees of Tahiti where Paul Gaugin ended up. But it's here that he and his fellow artist buddies, Paul Sérusier, Meijer De Haan and Charles Filiger, chose to hang out, drink cider and paint just about any available space in the house they could find.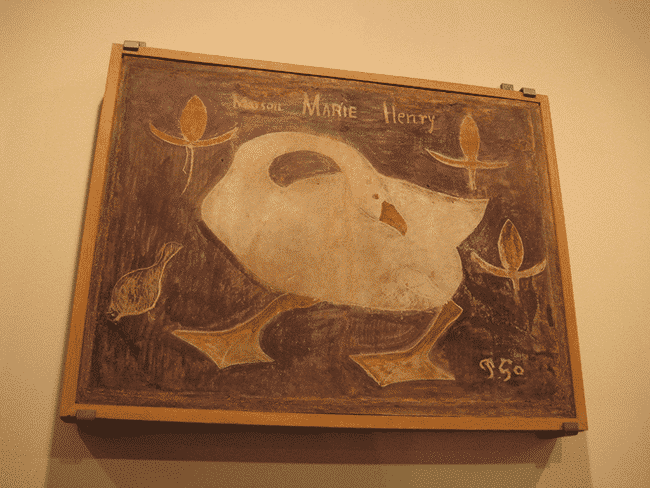 One of Gaugin's paintings found at Maison Marie Henry. Pic courtesy of Le.Mat
Marie, a young seamstress, lived alone at the house before making friends with the artists in the summer of 1889. Having struck up a particularly close relationship with De Haan (she gave birth to their daughter, Ida, in 1891), Marie opened her doors to these wild creative types, who returned her generosity by leaving a creative legacy that survives to this day.
The Maison Marie Henry was restored to its former glory in 2013 and now serves as a fascinating insight into the lifestyles and work of these famous French artists.
3) Calling The Shots: Firearms, Sculpture and Music With Pedro Reyes
Over in Mexico city, sculptor and musician Pedro Reyes has an unusual taste in collectibles for his studio. Guns. Lots of them. Almost 7,000 in fact. However, rather than use them to practice his aim, Pedro has turned these former weapons of destruction into instruments of joy.
His studio is like an arsenal of some of the most unusual sculptures and musical instruments you'll ever see or play. After a Mexican government offered him the de-commissioned guns – confiscated from trigger-happy criminal types – Pedro set to work armed with buzz-saws and welding torches.
The results? A bass guitar made from the chargers of an AK-47, a harmonica made from the muzzle of a gun (where you hold the revolver to your face to play it!) and an entire drum kit fashioned from firearms.
As well as being pretty awesome, Pedro's work also raises important issues about gun laws. His instruments have been featured in shows across the world, including The Carnegie Museum of Art in Pittsburgh and the Lisson Gallery in London.


Artist Kirsty Lorenz at work in her railway station studio in Fife, Scotland.
4) Full Steam Ahead For Scottish Artist Kirsty Lorenz
Finding a suitable studio to work in can be tricky for any artist, but a disused railway station isn't usually one of the first places you'd look. Not so for artist, Kirsty Lorenz, who jumped at the chance when she heard about disused rooms at the railway station in the village of Ladybank, Fife, Scotland.
Producing a large bunch of old keys, station master Marjorie Ward showed Kirsty round dark and dirty old rooms that hadn't been used for 20 years. However, rather than being put off, Kirsty was hooked. Thanks to Scotrail's 'Adopt a Station' scheme (where local communities are encouraged to use disused railway buildings), she was able to set the wheels in motion for her dream workspace.
In 2009, after a long year of renovation, fundraising and hard work, Kirsty's studio opened to the public. Those dank, uninviting, unloved rooms have now been transformed into three bright, airy spaces where Kirsty has her studio and holds regular workshops.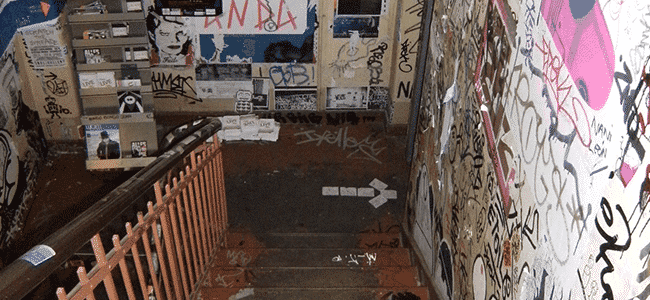 The staircase of one of the buildings in Hackesche Höfe. Pic by Chris Davies.
5) Awesome Alleyways: Street Art, Berlin Style
It's amazing what you come across when taking a stroll through any one of Berlin's fabulously bohemian streets. One such place is Hackesche Höfe – a restored courtyard and heritage site in the city's Mitte district. As with so many nooks and crannies in this creative city, almost every available piece of space has been covered with graffiti.
Walking up the steps of one of the eight buildings in this complex, it's amazing to see how each step and ever the handrails have been used for artistic purposes.
On each floor, you're greeted by a new haven of creativity. There are art studios, unique fashion outlets and comic book stores to explore. It's no wonder so my creative types view Berlin as one of their favorite cities in the world. Walking round its historic streets, it's easy to get a sense of what must have inspired David Bowie and Lou Reed so much.
And, when you've finished checking out all the amazing street art, you can go and enjoy an arthouse film in the nearby Hackesche Höfe Kino – built shortly after the wall came down in 1996.
What's your own art studio like? Is it full of things to inspire you or do you need to work a little on your environment? Perhaps you also have an unusual space to work in? Let us know – we'd love to hear about it!