Article written by Esther Wambui
Clio Art Fair started in 2014 as a satellite art fair to the Armory show which happens once per year, in March, during  Armory week. Now Clio is an established fair that runs twice yearly, March and October. Clio Art Fair was born from the vision and idea of Alessandro Berni who wanted a curated fair created with the idea of discovering independent artists and showcasing the careers and achievements of already affirmed creative minds.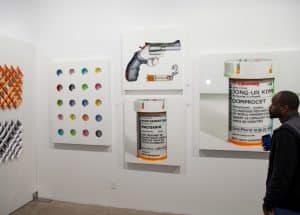 This edition, the Clio Art Fair opened its doors Thursday, October 19th with 42 artists from all over the world showcasing their works in the heart of the NYC art district, Chelsea: Asia, Europe, Americas, Africa, Australia. 
Clio Art Fair is an extraordinary international art platform that hosted artworks of independent artists from all over the world, critically  selected by a jury panel of art experts, such as the founder of this fair Alessandro Berni, fine artist and art critic, advisor Ylenia Mino, as well as the curator Mariangela Ciccone. This year's art fair had the honor of having  famous artists, Biennale winners, and multiple award winners such as Piero Manzoni,  Maurizio Cattelan, Zana Brisky, Nina Berman, and many more.
Emerging artists to well-known names of the art industry all show their work through Clio Art Fair.
Clio Art Fair definitely introduced, and is introducing, a new formula, a new experience in the Art fair industry. It has created a new model, a structure for showcasing artworks. Clio's high standards include that every detail is curated in the fair. It also has a sales team of agents who represent artists who are not present at the fair and helps them to sell their works. Clio supports the participating artists during the whole process from the selection of pieces to the placement on walls, during the fair and beyond. It is  possible to book a studio visit with a curator/ representative of Clio Art Fair and have the fair "come to the artist's world" for the selection process. Guests, artists, art collectors can satisfy their art thirst BY being immersed into the multi-faceted and varied scene of Chelsea, NYC with a chance to attend not only the regular fair hours, but also a VIP opening night, an after party, and two art breakfast/panels.