Secret Rare Shanks is a part of One Piece Romance Dawn.
One Piece is probably the best shounen anime of all time, and its 25-year-long run in public is a testament to this fact. The show has remained relevant even after so many years and shows no signs of slowing down anytime soon!
This year it is celebrating its 25th anniversary, and what better way to celebrate this milestone than by releasing a brand new card game surrounding the anime? We've seen many anime adaptations in the CCG format in the past, but none of them come close to the brand-new One Piece Card Game.
Because unlike the other anime-inspired card games, One Piece isn't a blatant cash grab; the creators have put real passion into this project, and it shows in the cards!
This card's illustration and artwork are enough to make any One Piece fan drool over them. One such card from the Set is the Secret Rare Shanks. It has been blowing up on the reseller markets, and we're here to answer why?
Origins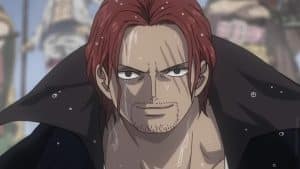 Shanks is one of the most popular characters from the franchise; the fandom cherishes his design and personality. In the anime, he is introduced as the captain of the Red Hat Pirates; he even goes by the alias' Red-Haired Shanks,' which makes sense because of his red hair.
Shanks is a big deal in the world of One Piece as he is one of the four emperors who rule the New World! He has been on countless adventures that have motivated millions worldwide; one such motivated individual was our protagonist, Luffy.
Trivia
The Romance Dawn set features not one, not two, but three different Shanks Cards`. The Secret Rare Shanks is the best-looking one of the three but is the least valuable.
Illustration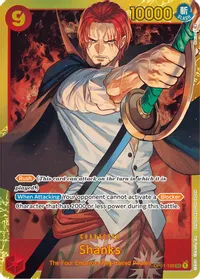 The Secret Rare Shanks features the character striking a solid, masculine pose. Background and the lighting of the artwork blend so well that you can get this framed, and no one would believe that it was a CCG card.
Shanks's personality and demeanor can be seen oozing out of this card, even though it is a static illustration, and that's what happens when someone with passion and love for a franchise gets to create a CCG card.
Value
As of writing this blog post, the Secret Rare Shanks are being sold for around $20-30. This is a lot when considering this is the first-ever Set from a brand-new card game. A lot of potential players will start getting into this franchise after a few sets' releases, and by that time, this card would've become even more valuable.
So if you pull it, make sure you store it with utmost care because who knows how high this card might fly in the future!
Recommended – Art of One Piece: Shanks Alternate Art from One Piece Romance Dawn