Nami (Parallel) is a part of One Piece Romance Dawn
The One Piece Card Game was released just a few days ago to commemorate the 25th anniversary of this fantastic anime. It's crazy to see one single franchise go strong for more than two decades, and judging by the recent hype for this new card game; it looks like One Piece is here to stay for good!
The first expansion pack to the game has been released; the expansion pack is called Romance Dawn and should ring a bell in the heads of One Piece fans. Because this is the name of one of the first story arcs in One Piece, it won't be wrong to say that many fans hold this arc dear to their hearts.
The expansion has many great cards; one such card is the Nami (Parallel), which, as the name suggests, features Nami, undoubtedly the most popular female in the anime.
The card has stirred up a lot of hype recently, so we're here to uncover why; we will get into the origins of the card, some fun trivia, the illustrations, and the card's value. So without further ado, let's get right into it!
Origins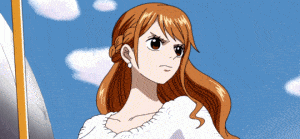 Nami, also known by her alias, 'Cat Burglar,' is an integral part of the Straw Hat Pirates; she was the second member to join the crew as a Navigator. She also is the high-ranking officer in the Straw Hat fleet! So it won't be wrong to say she's a big deal in One Piece.
Trivia
The set features a Nami card and a parallel art Nami card, but the original one is not as sort after as the similar art.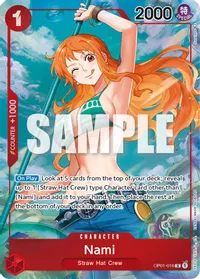 Illustration
In most of the Collectible Card Games out there, cards featuring a popular female from the franchise tend to sell well, and it's no different for the One Piece CCG. Plus, she is a prevalent character, and the illustrator has created great artwork for her.
The colors give the card a friendly, chill, oriental vibe. The orange hair pops out from the blue sea and sky, giving the card a distinctive look. Also, Nami is as beautiful as always, so the simps will line up to buy this one!
Value
As of writing this blog post, this Nami (Parallel) is being sold for around $160-200, which is a ridiculous number considering that this is the first-ever expansion and not many have joined it yet.
The massive fan following for One Piece will make sure that their favorite Nami card from the first-ever set of the CCG always remains valuable, so if you manage to cop this card, you're fortunate because this card just might become one of the most valuable cards in this card game down the line.
But then again, this depends on the success of the card game as a whole, if it flops, so does the card.
Recommended – Top 10 Chase Cards From One Piece Romance Dawn