Are you tired of always rooting for the heroes? Ready to switch things up and embrace your inner villain? Well, get excited because March 3, 2023 is the release date for "My Hero Academia: League of Villains" and it's sure to shake things up in a big way!
This is the first time the "My Hero Academia" series has given the bad guys the spotlight, and we couldn't be more excited. With fan favorites like Shigaraki, Dabi, Kurogiri, and Toga making a comeback, along with newcomers like Twice, Moonfish, Spinner, and Muscular, the villainous crew is stronger than ever.
League of Villains comes packed with 110 new cards that will support both new and old strategies. But that's not all – the set also introduces the Echo keyword, which lets you strike again by paying a Momentum. And if that's not enough, there's a fresh cycle of defensive actions to block powerful "1-Check" attacks – printed at Rare for the first time!
Join the League and cause some chaos. Show them that their precious justice is nothing but a flimsy facade. Before you join, let's shed some light on the new products they've introduced!
League of Villains Booster Box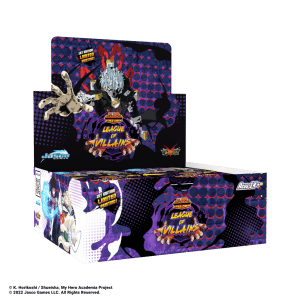 This box is packed with 24 League of Villains booster packs, two exclusive "Quirk Pack" promo cards and a bonus XR rarity card.
If you're wondering what these "Quirk Pack" cards are all about, they're only available by purchasing a sealed Booster Box. And don't forget about that extra XR rarity card, which means that getting your hands on a full Booster Box is the smartest move for expanding your collection.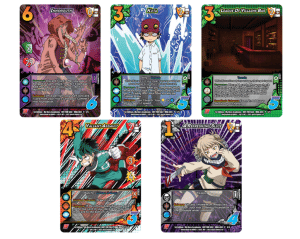 With this Booster Box, you'll have everything you need to cause some chaos and show the world what it means to be a villain.
All Might vs. All For One Clash Deck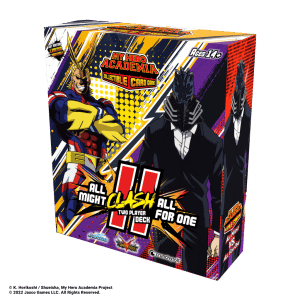 This product comes with two 51-card decks that are already assembled and ready to play straight out of the box. You can also expand your deck with more cards from the My Hero Academia booster packs.
What's great about the Clash Deck is that it is perfect for beginners. The product is designed to be user-friendly, making it easier for new players to learn how to play the game with a friend. There's no need to worry about the rules or struggle with complicated strategies; simply pick up the deck and start playing.
As a bonus, each Clash Deck also includes two random Ultra Rare cards from the "League of Villains" set. This is a fantastic opportunity to start building your card collection, and who knows, you might get lucky and receive a rare card that will give you an advantage in your next game.
Recommended – My Hero Academia: League Of Villains Pre Release Event