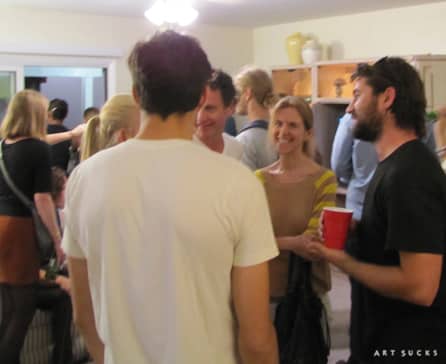 Ohanesian, Pictured on the far right in black t-shirt with red cup.
New York, NY – Saturday, April 27, 2013
This "Hipster Artist", as they refer to Andrew Ohanesian in this article on Gothamist, was arrested with a bag of cocaine as part of a massive drug bust this week in NY that tracked all of the buyers down through text messages.
Prosecutors told the judge that when Ohanesian was arrested, a bag of cocaine fell out of his pants. "He made an attempt to kick that cocaine under the table, but it was recovered," Assistant District Attorney Michelle Warren. - Gothamist
If you don't know who this artist is, arts writer Benjamin Sutton described his work best in an article in 2010 for The L Magazine:
"Ohanesian creates meticulous installations that turn entire galleries or parts of galleries into completely incongruous and fully-functional real-world spaces—this past summer, for instance, visitors to English Kills entered the gallery through a deli's walk-in freezer he had made (and kept stocked!), an unexpected and welcome blast of cool on hot days." - Benjamin Sutton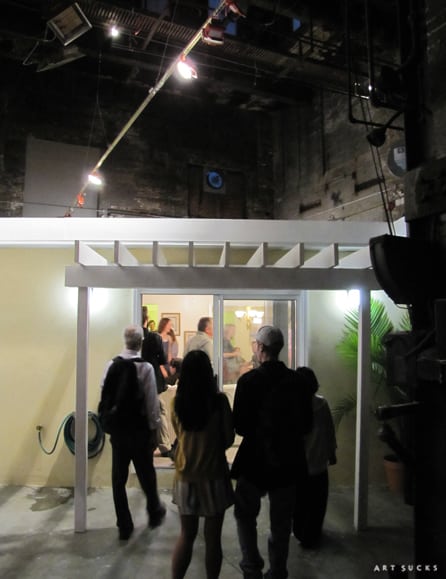 I am not gonna rag on the guy for what drugs he does in his free time, that's his business.  In my opinion his "conceptual art" is pretty uninspired and derivative, an artist would need some heavy stimulants to continually trick his brain into believing he is a genius while producing one lame install after another that pale in comparison to artists who create similar types of large scale installations like Mike Nelson, Christoph Buchel, and Leandro Erlich.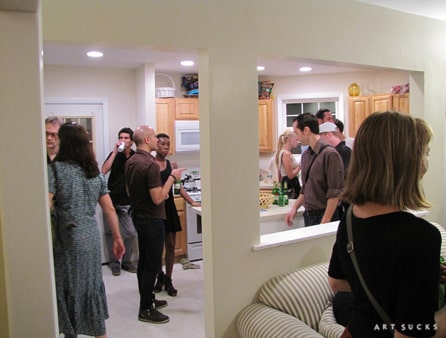 House Party, is the show all the articles about him being arrested are mentioning.  I was there inside the house within a gallery,  at the opening.  He built this house to look like any pre-fab in the suburbs.  It reminded me of my cousin's house in Massachusetts.
The other part of "the art" was to throw a big fake house party there and see how the house looks after an "actual party" had taken place.
This house was something any Hollywood Set-Building carpentry team could have put together in a few days.  I remember being in the space and having one of those , "wow, there is a lot more he could have done with this" sort of moments. It's hard to be inspired when there are 50 of these in every Ikea.
I might have been more impressed if I had never been to an Ikea, or if I hadn't been to a Williamsburg print shop / gallery called Skink-Ink earlier that night and seen this Yurt inside their gallery space.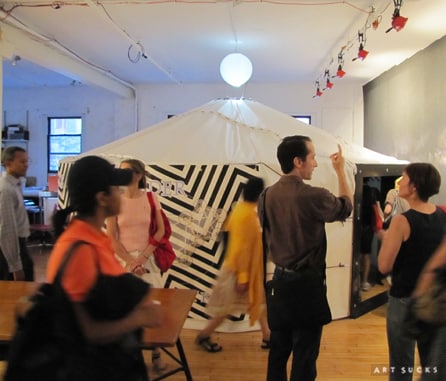 Yes, a Yurt is a house, and it is in a gallery.  Never seen a house in a gallery before?  How bout twice in one hour.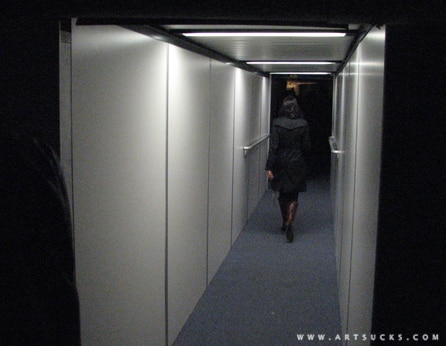 Another example of his work was his show Jetway, at the now dearly departed Ridgewood gallery Famous Accountants (read on ArtSucks.com).  Here he bought a Airplane Jetway from an airport in Cleveland or somewhere, and brought it to Ridgewood, Queens and reconstructed it in the basement of a brownstone (which was serving as a gallery).
Now that he will be getting out of jail with a pile of press and some more "bad boy" cred,  It will be interesting to see what he comes up with next:
Tree houses in a Gallery (with living trees)? A small parking lot in a gallery, with parked cars, but no way to get them out perhaps? A Laundry Mat in a gallery, where the machines are constantly all going?  A Mall Arcade from 1984 in a gallery with working change machines (I guess that would work in the Laundry Mat as well)? An entire Show Biz Pizza (pre- Chuck E. Cheese Era) in a gallery functioning as though it was still in business?  The Land of Make Believe (From Mr. Rodger's Neighborhood) in a gallery?  A room of a house that had been in a fire in a gallery? A traditional igloo made with real arctic ice and carved by Native Eskimos in a gallery?  A hotel gym and changing room in a gallery? An entire subway car in a gallery?
This is kind of fun, there, I just gave you 10-years worth of material.  Good luck man!
Written and Photographed by Cojo "Art Juggernaut"